The general theme of Yoga Ink classes is to open the heart and find the light inside of you.   And then you take the light and create fluid motion seemingly without effort.
WELCOME!   Give yourself a chance to fit something new into your life.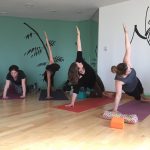 Allow your body to explore new motions, new sensations.
Expect changes, but not necessarily the ones you are seeking.
Expect frustrations.
Keep with it and be patient with yourself and with the practice.
It takes time to create new habits.
Adding Yoga to your life means restructuring your day, your body and your mind. Attending classes will help you along the way, but practising at home will inc
Begin slowly……five minutes a day of conscious breathing, 15 – 20 minutes of postures (asanas) and 5 – 10 minutes of relaxation will change your life!
You will feel GOOD!
Ruth's Blend Yoga Intermediate
The word Yoga means to "yoke" or to join together. It refers to the joining together of the body, mind, and spirit. This was the intent thousands of years ago when the ancient yogis developed, explored, and studied the practice of meditation. The physical practices were brought in to help the meditation practice be more comfortable. Asana which means "seat" was the ticket to sitting. In North America we have taken Asana to mean a Yoga practice centered on the physical side of yoga often with little regard to conscious breath, awareness of structural alignment, and individual differences.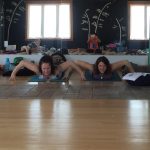 Ruth's Blend Yoga reflects the range and compassion of the Yoga influences in Ruth's life which range from sweaty Astanga to intense Yin to gentle Hatha to fun and challenging Kundalini.
Classes are a mix of asanas (postures), conscious breathing, short meditation, flow, and relaxation. Asana are led with detail and accommodation that we are not all the same – our natural abilities combined with our personal lives can lead to physical ease or "stuckness" in postures.
Classes include classic poses, conscious breath, relaxation, and do-it-yourself Yoga Therapy to be more comfortable on the mat and to gain more from the practice.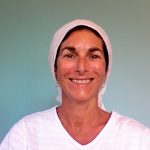 Kundalini Yoga as taught by Yogi Bhajan is designed to make you feel GOOD!
"Kundalini yoga is a dynamic blend of postures, pranayam, mantra, meditation, and mudra, which teaches the art of relaxation, self-healing and elevation." Yogi Bhajan
"Balancing body and mind enables you to experience the clarity and   beauty of your soul.                                                  No previous experience in yoga is required for you to achieve  results with your very first class." YB
Kundalini Yoga is a technology comprised of thousands of kriyas and meditations each with a specific desired outcome. They stimulate the glandular system and the parasympathetic nervous system to help you "Be Healthy, Be Happy and Be Holy".
A Kundalini Yoga class as taught by Yogi Bhajan includes mantras, mudras, chanting, physical postures, meditation and relaxation with a symphonic gong. Come and experience this inspiring and life balancing style.
Kundalini Yoga is considered the most comprehensive of yoga traditions, combining jappa (repeating a mantra) meditation, core inspired physical exercises, conscious breathing (long deep slow breathing and Breath of Fire among other breath techniques), eye focus, meditations, and wonderful relaxations with and without the vibrations of the gong.
Kundalini Yoga elevates the spirit, increases energy and helps the practitioner feel GOOD!
Kundalini Yoga works the entire nervous and glandular system and awakens the full potential of human awareness in each individual. It helps clear inner conflict, creates the power to deeply listen, cultivates inner stillness, and helps to have prosperity and deliver excellence in all that we do.
A Kundalini Yoga class follows a recipe:
Tune in with "ONG NAMO GURU DEV NAMO"     "I bow or listen to, the Divine Spirit within"
Kriya – a set of physical postures put together with breath and other focus tools to have a specific effect.
Deep Relaxation – with or without the gong deep relaxation helps to rebuild you physical and psychically from the inside out on a cellular level.
Meditation – pulling from an incredible collection of thousands of meditations the Kundalini Yoga teacher chooses a meditation whose known effect works well with the chosen kriya. The meditations can be silent or with chanting, with mantra or with another focus, with stillness or with action, with mudra or breath focus, the choices are almost endless!
Closing Chant – "Long Time Sunshine Song"
May the long time sun shine upon You
All Love surround You
And the Pure Light within You
Guide your way On.
Often the teacher will end with an inspiring quote or story (called a hokum) and then there is time for "community" – with Yogi Spice Tea and light treat.
 Yogi Tea
3 quarts water
1-2 Teaspoon whole cloves (about 12)
1-2 Teaspoon black peppercorns (about 12)
3   6-8 inch sticks of cinnamon sticks
1 Tblsp. whole cardmon pods (about 12, split the pods first)
2-4 inches fresh ginger, sliced and chopped (no need to peel)                                                                                                                           Dairy or almond, soy or rice milk – optional                                                                                                                                                        stevia, sugar, honey or maple syrup – optional
Preparation: Put all spices in a pot, add water, cover the pot, bring to a boil, reduce heat and simmer for one to three hours. Add more water if too strong. Remove from heat and let cool. Strain and store in the refrigerator. Reheat when you want a cup, adding hot milk and sweetener to taste.
With thanks to The Golden Chain of masters, teachers and students of Kundalini Yoga from the past and the present including Yogi Bhajan, who brought Kundalini Yoga to North America in 1968 and my teacher Shakta Kaur of Chicago's Kundalini Yoga in the Loop. Her web site: www.shaktakaur.com is an amazing resource.
KRI – Kundalini Research Institute www.kriteachings.org
3HO – Happy, Heathy, and Holy www.3ho.org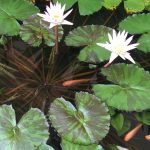 Spiritual names:A spiritual name reinforces and accelerates your progress on your path to your highest destiny. It has positive benefits every time someone or yourself says it, meditates on it, or hears it. If you are interested in receiving a spiritual name go to www.3HO.org and follow the links.
Atmabir Kaur is Ruth's spiritual name – it means "the princess with a strong, energetic soul"

Why we wear white and what is that on our heads?In Kundalini Yoga, white is good for the body energetically and for the nervous system. Wearing white helps expand your radiance, your aura. It represents light, the source of all colours. For a Kundalini Yoga Teacher wearing white is our "banna" or uniform. Students and practitioners may wear whatever colour they like but they gain all the benefits of wearing white (or ivory) clothes if they do so. For the teacher a head covering keeps their energy in and keeps other energy out. They are also great for a personal meditative practice, to help you go inward more easily. Try it! It can be something simple like a kerchief or a toque.
"We live by the beat of the heart, not by the thoughts of the head."